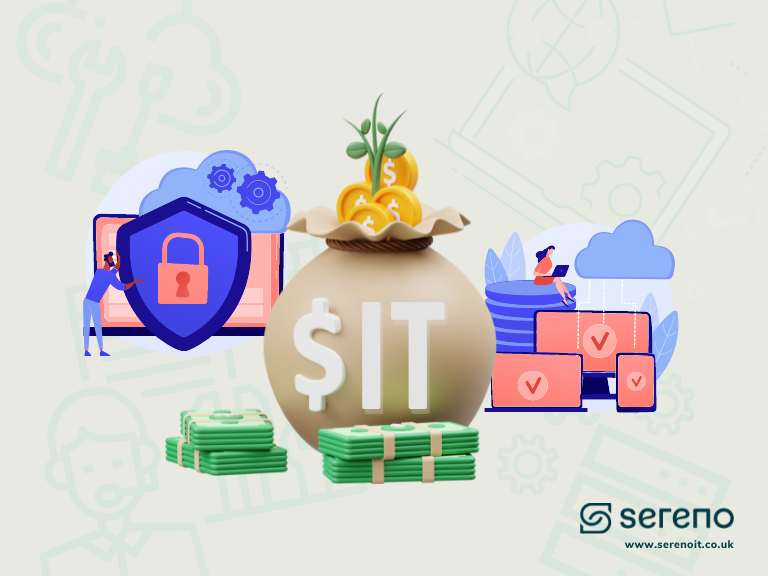 IT: An Investment or Expense? 
The definition of an expense over an investment is quite clear cut. An investment is spending that creates an asset and improves profits, whilst a expense is a operational cost. IT has traditionally been viewed as an operational cost, but this perception has changed dramatically as our businesses reliance on technology has increased. Businesses can no longer operate without IT, becoming a critical component of communication, client engagement, service delivery, and competitive differentiation.  
However, investing in IT does not automatically translate to a profitable outcome. IT spending can quickly become an expense instead of an investment without careful consideration. Seeking the right advice and guidance is essential to ensure that your IT investments generate ROI and boost profits. 
In this article, we cover:
Technology Partnership – Guiding your investment
Outsourcing your IT needs can be an affordable way to keep your business running smoothly and ensure your staff has the technology they need to do their jobs effectively. However, finding the right IT provider can be challenging. You want to ensure you receive expert advice on what technology and services are necessary for your business and that your provider has your best interests in mind. 
Unfortunately, the IT Support industry has grown and become more profitable, encouraging investment from sectors like Private Equity. This effect has meant service providers may put sales ahead of providing good service and may try to sell you products or services you don't need.  
To avoid these problems, finding an IT provider who understands and cares about your business's needs and goals is essential. Look for a provider who takes the time to understand your organization and develop a long-term plan for your technology needs, not a quick sale of their new service. This approach will help ensure you receive reliable services at a reasonable cost. 
As a business owner or manager, it is vital to invest in your technology to keep up with the industry's ever-changing landscape. A good IT provider will encourage investments in the right areas, which should include services they provide themselves (explained later). Working with a provider who shares your goals and understands your needs can lead to a successful and profitable partnership. 
Choosing a true technology partner can make all the difference in ensuring your business's IT is reliable and cost-effective. At Sereno, we believe creating a strong partnership with our clients is the key to success. Here are some tips to ensure your IT spend is an investment and never an expense: 
Look: At What You Already Have  
Before investing in new technology, take a closer look at the technology you have and make the most of it. Cloud productivity tools such as Microsoft 365 and Google Workspace are used in many companies. However, people often overlook the extensive range of applications and tools available through their current licenses or a minor upgrade. Many essential business functions, such as intranets, external collaboration folders, HR systems, employee satisfaction surveys, and booking systems, can be fulfilled by Microsoft 365. Companies may search for these services outside their existing technology before realizing that Microsoft 365 offers these solutions. You can find more examples of how to save costs in your IT environment by checking out number 5 on our list of 14 examples of how to reduce your business costs. 
Look: For ROI
The great thing about technology is that it serves a purpose. This can streamline processes and automate previously manual work, provide a quicker way to communicate and collaborate, or ensure your business stays operational at all times. These are measurable in terms of productivity and, therefore, employee cost. A Return on Investment (ROI) calculation can be done before any technology investment, and if it's not giving ROI or generating revenue previously untapped, then it's probably not an investment. 
The outlier of the rule is cyber-Security, as the impact of not having protection in place is hypothetical. However, you can run the numbers on the cost of downtime or the financial impact of reputational damage. Cyber Security services can also be measured ongoing by reporting on their effectiveness, and the number of threats stopped. 
Look: To Integrate and Automate
Integrating and automating processes can offer significant benefits in terms of productivity while reducing employee frustration. Many applications and systems provide prebuilt integration options to create a more seamless workplace. For example, click-to-call features between phone systems and CRMs, shared contact directories, stock management and billing platforms, and integration between marketing tools and sales management systems. Additionally, data analysis can be integrated into backend databases, among other possibilities. Simple integrations like Same Sign-On can enable employees to use a single login across all apps. 
While automation may require more effort depending on the industry, it's relatively straightforward from an IT standpoint to automate the build and setup of new devices. This means that when a new employee logs in to a new machine, all the necessary software, controls, and settings for their role are installed automatically, saving time, reducing installation costs, and improving the new employee's first impression when starting. 
Look: For OpEx, not CapEx 
Most companies don't have the budgets or cash flows for major expenses, especially when they invoice annually or per project. Fortunately, most SaaS and technology services now offer monthly billing, which has the benefit of minimal upfront costs and manageable ongoing expenses. These costs can be categorized as operating expenses, which also offer tax benefits. 
While most IT providers offer managed services monthly, it's also worth considering the option of leasing hardware and equipment, especially if you have a large server project or laptop refresh coming up. Even though leasing companies usually add a small markup over 36 months, the tax benefits often outweigh the cons. IT equipment usually only lasts 36 months, so many of our clients choose to lease equipment and replace it with new equipment at the end of each lease. This keeps their operating costs stable and keeps their employees' technology up to date. This approach also simplifies budgeting and helps justify it in the new year, keeping tech on the Operational Expenditures line, not in Capital Expenditures.  
Look: For Software Off the Shelf 
When searching for applications and systems to support your business, it's wise to consider 'off the shelf' solutions from reputable providers already used in your industry. Although custom-made solutions tailored to your specific needs may sound attractive, it's essential to consider the future. Will these solutions continue to meet your changing requirements over time? Who will provide support for these bespoke systems in the long run? What software are they built on, and will this become outdated or unsupported soon? 
We've seen many companies build their business processes around legacy applications only to find out they're no longer supported. This means they either have to spend a lot of money to keep them running or have a lot of trouble when switching to a new system. 
Cloud applications, or Software as a Service (SaaS), such as Salesforce, HubSpot, or Xero, are a smart choice for most businesses. These off-the-shelf tools can meet most business processes or provide best-in-class processes that are pre-built within them. SaaS applications benefit from ongoing upgrades and development and can integrate with other systems, such as Microsoft 365, Google, and phone systems.
Look: For Strategic Decision Making  
It's becoming increasingly common for quarterly IT service review meetings to focus on pushing new products and services instead of addressing your actual needs and providing solutions, regardless of whether an investment is necessary. That's why your Account Management needs to be led by a technical advisor who can understand your business requirements and assess your IT environment, proposing valuable improvements across all areas rather than just trying to sell you more services. 
Consider holding an annual IT strategy meeting to ensure you have this kind of advisory engagement and avoid being pushed into unnecessary purchases during quarterly meetings. We encourage all our partners to do this with us, which involves several steps. First, a complete re-assessment of your IT environment against best practices is conducted, followed by a review of service tickets from the past six months and other technology health reporting. A questionnaire is also sent out to all stakeholders within the business, asking for feedback on technology-related issues, frustrations, and requirements. Finally, a discussion is held focusing solely on the strategy for the business in the coming year or more. 
This information is compiled to identify issues or trends that need addressing and strategic objectives that IT can help achieve. A roadmap is created for the next year, showing the required objectives, projects, and investments. This approach ensures that any necessary projects are agreed upon with a full understanding of other investments needed throughout the year, such as renewals or device replacements. It also ensures that investments meet clearly defined objectives and add value. This approach quickly identifies whether your Account Manager can engage at this level and put together a strategic roadmap rather than simply pushing quick sales. 
Look: At Your IT Reports 
You can receive reports on their success and impact to ensure that your past investments in technology and IT services are still worthwhile. Although this may not appeal to everyone, a good IT support provider will handle it for you. At Sereno, we compile all the information into a centralised reporting system that our partners can review, which most don't, but that's okay because it's our responsibility. During our quarterly review meetings, we comprehensively evaluate all the available reports on the IT environment and present key takeaways for you to act on. This way, you can be confident that your previous investments are still in place and effective. 
Many IT providers offer a "managed" service where they take care of all aspects of the IT services you need, such as installing and updating antivirus software and resolving any issues. Instead of buying a license and spending internal staff time managing it, you pay a small fee for the provider to handle it all. 
While this may seem more expensive, consider the cost of internal staff time and whether they can effectively manage these tasks. Additionally, IT providers often have integrations that can update and deploy software and alert on issues. 
The main benefit of a managed service is that you can relax knowing that professionals are handling your IT needs and that everything is managed under one roof. Just be sure to ask for a report on the services provided. 
Look: To One Provider  
When it comes to IT services and management, it's actually less risky to put all your IT needs in the hands of one IT provider. Choosing the right provider requires proper due diligence of course.
The IT environment includes many parts: the internet, network infrastructure, phones, devices, cyber security, web hosting, domains, software, emails, and servers, and more. Suppose you split these services among different providers. In that case, you might think you're diversifying and mitigating risks, but it's actually the opposite, especially if you don't have a full-time IT manager in-house. 
One of the main reasons for outsourcing your IT can take the burden off your employees. This means your IT provider needs visibility and control over all areas of your IT environment to manage it effectively. 
IT support providers often offer packages that combine multiple services to provide superior and holistic service. At Sereno, we offer Cyber Security Packages that include various services from different vendors, such as Device, Email, or Employee security packages. This provides multiple benefits, including cost savings through buying power, access to the best products on the market, and assurance that all engineers know how to manage these services effectively.
Look: For Sereno 
At Sereno, we understand the challenges that come with technology investments, and that's why we prioritize our partners' needs and ensure that every spend in IT is a strategic investment. We believe technology should serve as an enabler for your business rather than a hindrance, and we're here to help you make the most of your investments. 
If you're ready to make smart investments in technology, contact one of our knowledgeable advisors at 02030890141 or hello@serenoit.co.uk to learn more about how we can help you transform your business. Let's work together to create a brighter future for your business!