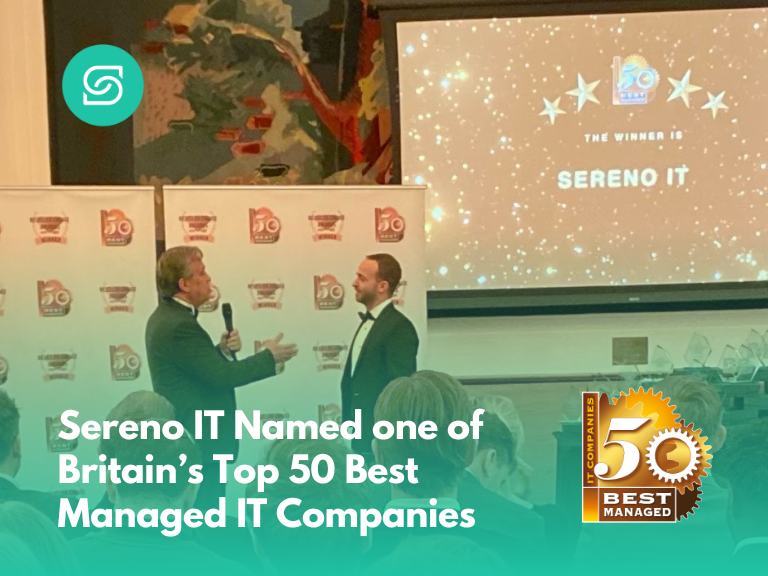 London, United Kingdom—3 March 2023— London based IT services provider, Sereno IT Support was named one of Britain's 50 best Managed IT companies in 2022 in the ceremony held by Technoplanet on Thursday 2nd March 2023. This award recognises tech companies for outstanding business practises in 12 key areas. It is based on a rigorous assessment that covers every area of business operation, such as business vision, strategy, leadership, management, sales process, marketing, finance, operations, help desk/support, product, supplier, and customer satisfaction. 
"This is our first time taking the assessment. We were initially hesitant to apply considering we haven't even reached our first-year anniversary yet. But looking at how far we grew this past year, we were confident about the quality of our service process and delivery, the strength of our relationships with our partners and commitment to excellence. Out of an initial 1200 participants, Sereno walked out with a place in UK's top Managed IT companies list…This achievement is a testament to the fact we are on the right track. Thank you to the Sereno IT team for working tirelessly throughout and thank you to our clients for your continued support". said Elizabeth Procopiou, Sereno Operation Director and co-founder. 
Commenting about this important milestone, Sereno Director and co-founder, Michael Johnson said: "We approached this award as a way to benchmark ourselves against larger IT companies who have been established for much longer. When starting Sereno, Elizabeth and I made the decision to use our past experience working in MSPs to focus on creating mature operating processes from the start. We could have focused on growth first, but we wanted a reliable and scalable operation base to build upon, one that adheres to best practices throughout service delivery, and removes the usual growing pains most companies experience. For us, this award proves our diligence towards best practice from the start has paid off, and our team are delivering a superb service within a very short time." 
About Sereno IT Support 
At Sereno we make people the focus of IT Support. We exist to create a unique ecosystem between technology and people. Using the best of technology to streamline previously laborious and frustrating limitations, we are committed to always provide an excellent technology experience above all else for our Partners.  
We're motivated by how the right, proactive IT advice delivers mutually beneficial results for you and us, allowing us to build a truly united technology partnership.