Don't let the fear of switching and changing IT providers prevent your team from receiving the services they deserve at a reasonable price.  
But "Better the devil you know," you might say? Well, not anymore… 
Staying with a poor IT provider because you're afraid to move away is no longer an acceptable excuse. In this article, we debunk 9 myths about switching IT companies and you'll learn how changing IT providers is a much simpler process than you think—it takes little time and has no impact on your employees. 
In this article, we cover:
Preying on your fear 
There are many reasons why businesses stick with their subpar unreliable, or exorbitantly priced IT service provider, but the main and fundamental reason remains: the fear of switching.  
This is because changing IT providers is often seen as a daunting task that's not worth the trouble. It would require a considerable time commitment, disturb employees, and result in downtime for business systems. 
This very fear is what your current IT provider preys on, to continuously get away with poor service experience whilst increasing their prices year after year. 
The reality of the IT Support market
Something that most people don't realise, and IT support companies might not want you to know, but…. 
The IT industry is in fact a "switch market." 
The primary source of new business for IT support companies comes from businesses who have previously outsourced their IT but are wanting to switch providers (typically due to subpar service and bad advice), instead of businesses looking to outsource IT for the first time.  
The IT support business model therefore relies on easy onboarding processes for new clients, and the offboarding procedures follows suit. 
Company 'wind ups' and other business synergies, like mergers and acquisitions (M&A), can create some client turnover among support providers, which means preparing a customer for departure is an integral part of the service and is not something you should fear.  
Keep in mind that this IT service, is a "support service" to aid what you already have in place without taking ownership of your data, licenses, or critical business systems.  
This means: A provider will never own your data, or your core system licenses from Microsoft or Google; they will only have administrative privileges to manage them. When you leave, this access is easily transferred to the new provider, and you retain the credentials and ownerships throughout. 
If you have a separate agreement with your IT provider for Managed IT services like Internet access, telephones, or security monitoring in addition to the support agreement, that's fine too. When you move away, they will just become another third-party with whom your new IT company communicates with, just like Microsoft, Google, BT, and other essential service providers. 
Changing IT provider and moving away – the why

?
In today's busy business environment, there is almost no workflow that doesn't involve IT. Irrespective of the size, Businesses now rely entirely on tech to function and operate efficiently.
Ensuring your systems are fit, your company is secure and thus the reliability of the services you provide, can only be established by having an efficient IT support partner.
But, your systems health and your business cyber security, is just the tip of the iceberg…
Negative effects on employee retention and satisfaction, business productivity and financial performance among others, are just a few of the many problems that can arise from using a poor IT support provider. Having a trustworthy Managed IT partner is a necessity for your company.
Your business simply cannot afford bad IT.
And thanks to the cutting-edge technologies that have been developed recently, a lot of the traditionally time-consuming processes are now streamlined, consequently increasing the overall dependability of service delivery. IT support is now available at a fraction of cost, but many businesses are not reaping these benefits yet. Check out 9 ways Sereno improved IT service while saving you cash.
For a stress-free transition, download our handy IT switching checklist. Here we outline everything you need to prepare before changing IT provider, what to expect during the switch, and how to ensure success afterwards. It will ensure that you are fully prepared for a painless transition to your new and improved IT support partner.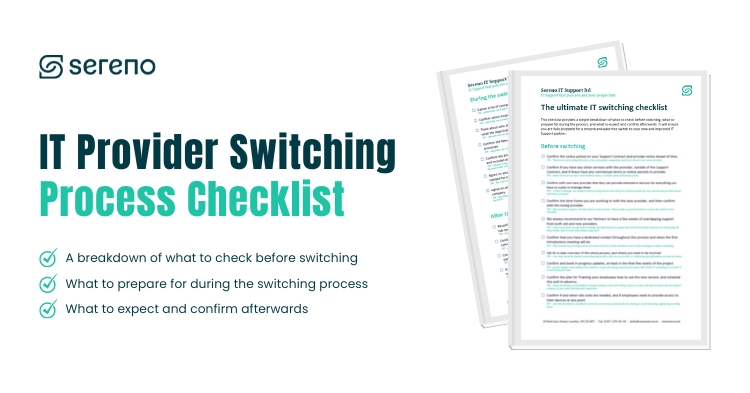 Busting 9 concerns – Switching Fears vs Reality  
Now that we covered why it's worth reconsidering a subpar IT company, we outline common myths and debunk 9 switching concerns that most of our current clients face when changing their old IT providers. The realities are much simpler than you think, so don't let these fears influence your decision. 
Sereno's Approach 
At Sereno, we know the switching, or 'onboarding' process, is one of the most important projects we will do as a company.  
We will oversee everything and ask for the minimal information we need so that everything moves forward without a hitch.
An onboarding engineer will be introduced and assigned to you as your single point of contact throughout the onboarding process and the initial weeks of support.

 

We have a well-documented 6-stage process that includes the internal steps necessary for our engineer 

and another

external one

with any actions requiring your involvement, so you know exactly what is expected from the start. 

 

We'll send you brief email reports on our progress and set up a few check-ins as the launch date approaches to reassure you and keep you in the loop.

 

Our team doesn't assume; instead, we verify all access and information in advance and record the results for future reference.

 

We will visit your office at least once to take pictures, draw up a network diagram, verify the accuracy of the data given, and get to know your staff so we can better address any problems they're experiencing. 

 

During this process, our engineers assess your entire environment to ensure it is up to industry standards, covering everything from network reliability to data security. Within the first two weeks of support, we conduct a Technology Assessment Review where we will share what we have learned and heard and discuss any problems or opportunities for improvement. 

 

We will also offer in-person or online training for employees on how to make the most of our service, ideally within 15 minutes of a scheduled company meeting. All future employees will be introduced via a training video that we produce.

 

Our next step will be to discuss your company's short- and long-term goals and objectives, after which we will incorporate the resulting improvements and actions into an adaptable IT Road Map. 

 
This is not a one-and-done procedure but rather a regular part of our dedication to you, so we will review and re-evaluate it every quarter. 
If you are looking to switch to a new IT provider and would like to know more about how we ensure your smooth transition to a better service, please contact Sereno at 0203 089 01 41 or at hello@serenoit.co.auk to speak with one of our knowledgeable advisors on how we can help!  
In this article, we cover: