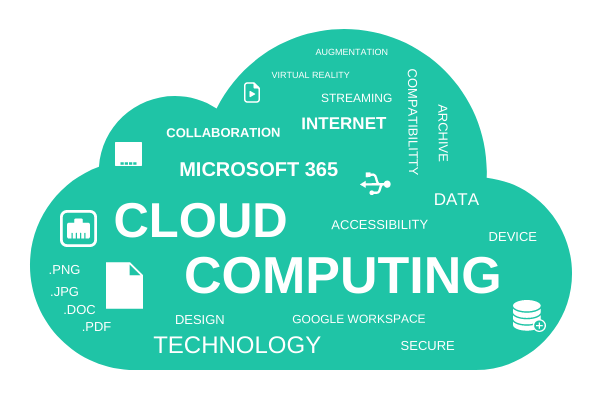 Cloud computing is now a fundamental part of all modern businesses. But before we dive into why it's here to stay, let's recap on what exactly cloud computing is…
In this article, we cover:
What is cloud computing?
The term cloud computing was first coined in 2006 by Google CEO, Eric Schmidt. Since then, its popularity has grown significantly, and it is now fundamental in the way businesses across the globe store, access, and use their data.
Put simply, cloud computing refers to the delivery of computing services (such as servers, storage, networks, software etc.) via the internet. Before cloud computing, businesses had to rely on physical data centres and servers, which they were responsible for buying and maintaining (if you're not currently taking advantage of cloud computing – this is you!).
Generally, physical servers are more expensive and make data storage and retrieval more complex, which is why cloud computing has grown in popularity so quickly.
Cloud computing is often misinterpreted as merely cloud storage. In reality, it encompasses almost all a company's IT requirements, including business applications, security systems, and system infrastructure. Most of us will already be familiar with cloud services like Microsoft 365 or Google Workspace. These programs enable us to not only store data but use it in a way that aids collaboration and efficiency.
According to Cloud Industry Forum, 88% of UK businesses are already either using cloud computing. And this number will only continue increasing, as cloud computing further solidifies its place in the digital world.
Misconceptions about cloud computing
Despite its obvious benefits, there are several misconceptions about the effectiveness of cloud computing. Namely, that it's more expensive and not as secure as traditional methods.
Cloud computing misconception 1: Affordability
In terms of cost, this speculation is unfounded. Whilst companies previously had to buy physical servers and pay for them to be maintained, companies taking advantage of cloud computing only have to pay an affordable fixed monthly rate, whilst their IT partner manages its functionality and security. In fact, cost-efficiency is undoubtedly one of the most significant benefits of cloud technology. In a recent study by Cloud HyperMarket, 74% of respondents said that using the cloud has reduced their infrastructure costs.
Cloud computing misconception 2: Security
All data stored in the cloud is encrypted, adding an extra layer of security. Most cloud computing providers have built in security and threat detection software. However, when it comes to your security, we advise implementing a multi-layered strategy, regardless of the data storage solution you're using. No method of cyber security is ever 100% effective, so using a variety of recommended security solutions is the only way to ensure your business is protected from risk.
Why cloud computing is here to stay
Despite some speculation, businesses are continuing to take advantage of cloud computing due to the overwhelming number of benefits and proven success in businesses of all sizes.
Here are the main reasons cloud computing is here to stay:
1. Easier and more efficient collaboration
Cloud computing makes collaborating with colleagues effortless. Most cloud computing solutions enable multiple people to edit documents, spreadsheets, and presentations at the same time, without creating different versions. For example, if a team of colleagues are working together on a project, they can update the sections of a document that apply to them alongside their colleagues. That way, they can see what progress each other has made, and add relevant comments to their colleagues' work, without creating multiple files and causing confusion.
2. Pivotal for effective remote working
The collaborative benefits of cloud computing were especially crucial throughout the Covid-19 pandemic. Because all data is stored and accessed via the cloud, employees only need a suitable device, login details, a stable internet connection and the right permissions to be able to access the files they need.
This enables colleagues to access and work on documents whenever they want, from wherever they want. This means that employees don't necessarily need to be based in the office to do their jobs effectively. Those businesses who had already migrated to the cloud saw the benefits of this when the first lockdown was introduced. Whilst other businesses initially struggled to operate effectively, those using cloud computing could continue as normal immediately.
3. Cost-efficiency
Reduced cost is one of the most significant benefits of cloud computing. Generally, you will pay an affordable fixed monthly rate, only paying for the services you need. Additionally, you won't have the added expense of buying, maintaining, and replacing expensive equipment, like servers, hardware and software. Also, any necessary upgrades will be managed by your IT Support partner and likely included in your normal subscription fee with them, meaning no additional costs and no nasty surprises.
4. Reduced risk of data loss
Because all data is stored on the cloud, there's less reliance on physical devices. For example, if there was a flood in the office and a large number of laptops or a server were destroyed, whilst this would be inconvenient, the actual data would still be readily available via the cloud. So, once employees had replacement devices, they would be able to work as normal, without having to re-do work or worry about irretrievable documentation.
5. An extra layer of security
As mentioned earlier, cloud computing encrypts all data, meaning unauthorised users cannot access the data stored in the cloud. Moreover, many cloud providers have built-in security measures that can detect and manage threats like ransomware or corrupted files.
However, as emphasised above, at Sereno IT Support, we always recommend a multi-layered approach to cyber security, regardless of the data storage systems you have in place, as this is the only way to ensure your data is fully protected.
6. Easy to scale
Cloud computing is just as effective and cost-efficient for a business with 5 employees as it is for a business with 500 employees. Plus, it's easy to scale alongside the growth of your business. If your business does experience significant growth, you won't need to worry about installing new physical systems and servers. Instead, your cloud computing solution can be adapted to accommodate more employees and data so that it perfectly aligns with the size of your business.
7. Less stress for you
Cloud computing solutions are usually managed by your IT partner, meaning they are responsible for all monitoring and maintenance. At Sereno IT Support, we will proactively monitor all your systems. This means we'll be able to detect and rectify any IT issues before they cause disruption to your business. Similarly, as your IT partner it's our job to ensure all your systems are up to date, meaning you don't have to stress about outdated software leading to security issues.
Is cloud computing suitable for my business?
So now you've heard about all the benefits of cloud computing, you might be asking yourself, will this work for my business?
In short, the answer is yes. Cloud technology is suitable for businesses of all sizes and is fully flexible, meaning you can use it for as little or as much as you want within your business. Plus, you will only ever pay for exactly what you need. The flexibility of cloud computing technology also means that it's easy to scale, helping you prepare for business growth, regardless when that may be.
If you're interested in joining millions of other businesses across the globe and taking advantage of cloud computing, we can help. Contact us today to find out exactly how cloud computing can help your business boost efficiency and security, whilst cutting costs.