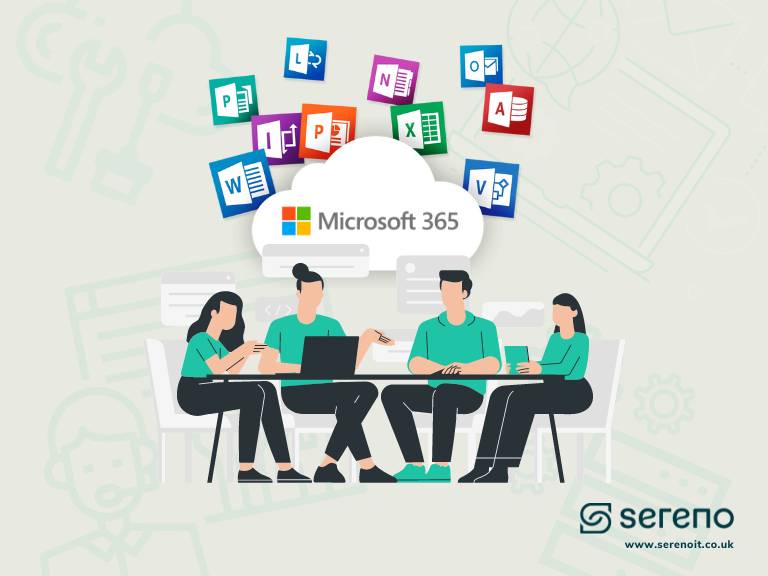 Are you looking for ways to boost your business's productivity and streamline your operations in 2024? If so, you might be wondering if Microsoft 365 is the right choice for your business. With its cloud-based technology and powerful suite of tools, from enhanced collaboration to improved security and disaster recovery capabilities, Microsoft 365 has revolutionized the way businesses of all sizes operate and will most certainly help your business stay ahead of the curve. 
So, if you're ready to take your business to the next level, let's explore Microsoft 365 benefits and discover 5 compelling reasons why your business should consider making the switch in 2024.  
But first, let's go over the types of Microsoft 365 business plans available. 
In this article, we cover:
Types of Microsoft 365 Business Plans?
Microsoft 365 Business offers three different plans, each with its own set of features and capabilities.  
Microsoft 365 Business Basic: This plan includes basic productivity tools, such as web browser versions of Office apps (Word, Excel, and PowerPoint), Outlook for email, and OneDrive for cloud storage. It also includes Microsoft Teams for collaboration and video conferencing.
Microsoft 365 Business Standard: This plan includes all the features of the Microsoft 365 Business Basic plan, as well as desktop versions of Office apps for PC and Mac, and additional apps such as Publisher and Access. It also includes advanced security and compliance features, such as data loss prevention, threat protection, and information protection.
Microsoft 365 Business Premium: This plan includes all the features of the Microsoft 365 Business Standard plan, as well as additional capabilities such as device management, advanced analytics, and voice capabilities with Microsoft Teams. It also includes Windows Virtual Desktop, which allows users to access a full Windows 10 desktop experience on any device. This is in addition to Microsoft Defender with Intune, Azure Active Directory (Azure AD) for identity and access control and Advanced Threat Protection to protect email attachments, links, and files uploaded by users.
Each plan offers different levels of functionality, allowing businesses to choose the plan that best fits their needs and budget. Microsoft 365 Business also offers flexible licensing options, allowing businesses to add or remove users as needed, and pay on a monthly basis. 
Should you get Microsoft 365 Business in 2024
Now onto the main question – is Microsoft 365 Business really worth it in 2024? 
The short answer is – absolutely! And here are 5 main reasons why. 
Increased collaboration and productivity:
Microsoft 365 offers a range of collaboration tools that allow team members to work together effectively, regardless of their location. For example, Microsoft Teams allows users to chat, share files, and collaborate on documents in real-time. Additionally, cloud-based storage solutions like OneDrive and SharePoint make it easy for teams to access and share files from anywhere, on any device. These tools can help businesses streamline their workflows and improve productivity by reducing the need for email and other time-consuming communication methods. 
Accessibility from anywhere and on any device:
Because Microsoft 365 is cloud-based, users can access their files and applications from anywhere with an internet connection, using any device. This can be particularly useful for businesses with remote or flexible work arrangements, as it allows employees to work from home or on-the-go without any loss of productivity. With the ability to access their files and applications on a range of devices, users can work more efficiently and effectively. Even offline working is possible through locally stored versions of your files, and then your edits will auto-upload to the cloud when you get connected again. 
Automatic updates and upgrades:
One of the key benefits of Microsoft 365 is that it receives regular updates and upgrades from Microsoft. These updates can include new features, bug fixes, and security enhancements, and are automatically applied to users' systems without any need for manual intervention. This means that businesses can be confident that they are always using the latest and most secure version of the software, without any additional effort or cost. 
Enhanced security and compliance features:
Security is a major concern for businesses of all sizes, and Microsoft 365 offers a range of security features that can help keep data safe. For example, Microsoft 365 includes built-in data loss prevention (DLP) tools that can help prevent sensitive information from being accidentally or intentionally shared outside the organization. It also offers advanced threat protection (ATP) features that can help protect against malware and other cyber threats. For businesses that need to comply with industry or regulatory standards, Microsoft 365 also includes a range of compliance features that can help meet these requirements. 
Cost savings compared to on-premises solutions:
Finally, one of the biggest benefits of Microsoft 365 for businesses is that it can be more cost-effective than traditional on-premises solutions. Because Microsoft 365 is cloud-based, there is no need for businesses to invest in expensive hardware or infrastructure. Additionally, because Microsoft 365 is sold on a subscription basis, businesses can easily scale up or down as needed, without any upfront costs. This can be particularly useful for smaller businesses or those with variable staffing requirements, as they can easily adjust their licensing requirements to suit their needs. 
Choosing the right plan for your business:
Microsoft 365 offers a range of subscription plans, each with different features and pricing. A higher-tier plans come with a higher price tag, and lower-tier plans might imply certain limitations or restrictions, but it all depends on your business requirements and security controls. I.e. If you have a larger business, you may need to invest in more expensive plans, which can impact your budget. Smaller businesses may be able to use the more affordable plans, but they may not have access to all the features they need. 
Another thing to keep mind is while Microsoft 365 can be very cost-effective, it may still be more expensive than other software options, especially if you need to purchase multiple licenses.  
This is especially more relevant now with the planned 9% Microsoft price increase in April 2024. Check out these tips and hacks to avoid overpaying for your Microsoft licences. 
So, make sure to carefully consider your business needs, your budget and the long-term costs of using Microsoft 365 before making a decision, as these may impact your team ability to use the software effectively.  
But regardless of the plan you go for, there are also few other considerations businesses should factor in when choosing Microsoft 365: 
Internet connectivity requirements:
Because Microsoft 365 is cloud-based, it requires a stable and reliable internet connection in order to function properly. For instance, if you're using Sharepoint/OneDrive for file storage, you would need a strong upload speed, not just download. This is because you must upload all edits you make to documents for them to sync in the cloud and be accessible for others to see. This can be a concern for businesses in areas with poor internet connectivity, or those that require offline access to their data. In these cases, alternative solutions may need to be considered, such as on-premises installations of Microsoft Office. 
Compatibility with existing systems and applications:
Before adopting Microsoft 365, businesses should consider whether it is compatible with their existing systems and applications. For example, if a business is heavily invested in a particular line-of-business application that is not compatible with Microsoft 365, it may be difficult to integrate the two. Additionally, businesses should consider whether their existing hardware and software can support Microsoft 365, as it may require upgrades or additional resources.
These are Microsoft 365's end-user's hardware recommended requirements. 
Operating systems: Windows 10/11

 

CPU: 2vCPU with 1 GHz or faster processor

 
RAM: 4096 MB

 

Hard drive: 200 MB or more

 

.NET Framework version: 4.6.1 or later

 

Video: DirectX 9 or later with WDDM 1.0 driver

 
If you're using Microsoft Teams and/or Multi-Media redirection on the Cloud PCs, the hardware requirements are: 
Operating systems: Windows 10/11

 

CPU: At least 2vCPU with minimum 1.6 GHz or faster processor. For higher video/screen share resolution and frame rate, a four-core processor or better is recommended

 

RAM: 4096 MB

 

Hard drive: 3 GB or more

 

.NET Framework version: 4.6.1 or later

 
Video: DirectX 9 or later with WDDM 1.0 driver. Background video effects require Windows 10/11 or a processor with AVX2 instruction set. Also, Teams audio and video offloading on a Cloud PC benefits from a dedicated Graphics Processing Unit (GPU) within the device.

 
Storage needs and limitations:
Microsoft 365 includes a certain amount of cloud-based storage as part of its subscription packages (1 TB of OneDrive cloud storage per user), but businesses with large or complex data requirements may need to purchase additional storage. Additionally, businesses should be aware of any storage limitations that may apply, as exceeding these limits can result in additional costs or reduced functionality. 
Training and support for employees:
Because Microsoft 365 includes a range of applications and collaboration tools, it can be complex for users who are unfamiliar with the software. Businesses should consider whether they have the resources to provide training and support to their employees, or whether they need to engage external providers for this purpose. 
Compliance and data protection requirements:
Finally, businesses should consider their compliance and data protection requirements before adopting Microsoft 365. While Microsoft 365 includes a range of compliance features, businesses may need to take additional steps to ensure that they are meeting their legal and regulatory obligations. Additionally, businesses should be aware of any data protection risks associated with cloud-based solutions and take appropriate steps to mitigate these risks (such as implementing strong access controls and encryption).
We hope this guide has provided you with valuable insights into the world of choosing Microsoft 365 plans. By following the tips we've outlined, you can make an informed decision that will benefit your business for years to come.  
Remember, choosing the right plan is crucial to the success and growth of your business. So don't settle for less when it comes to your team's IT needs and make sure your get the most out of Microsoft 365 for your business. 
If you are unsure about which plans will best suit your team, or looking for a way to optimize your Microsoft licenses and save money? Look no further! Our team is offering a free Microsoft 365 audit and consultation to help you make the most of your licenses and ensure you're not overpaying. 
During our consultation, we'll review your licenses to ensure you have the right type for your business needs and provide you with valuable insights on how to take advantage of all the features and apps available within your Microsoft packages. 
If you would like to understand more about what working with Sereno could look like, and how we provide a great Managed IT services at a reduced price, please reach out on 02030890141, hello@serenoit.co.uk and chat with one of our knowledgeable advisors on how we can help.