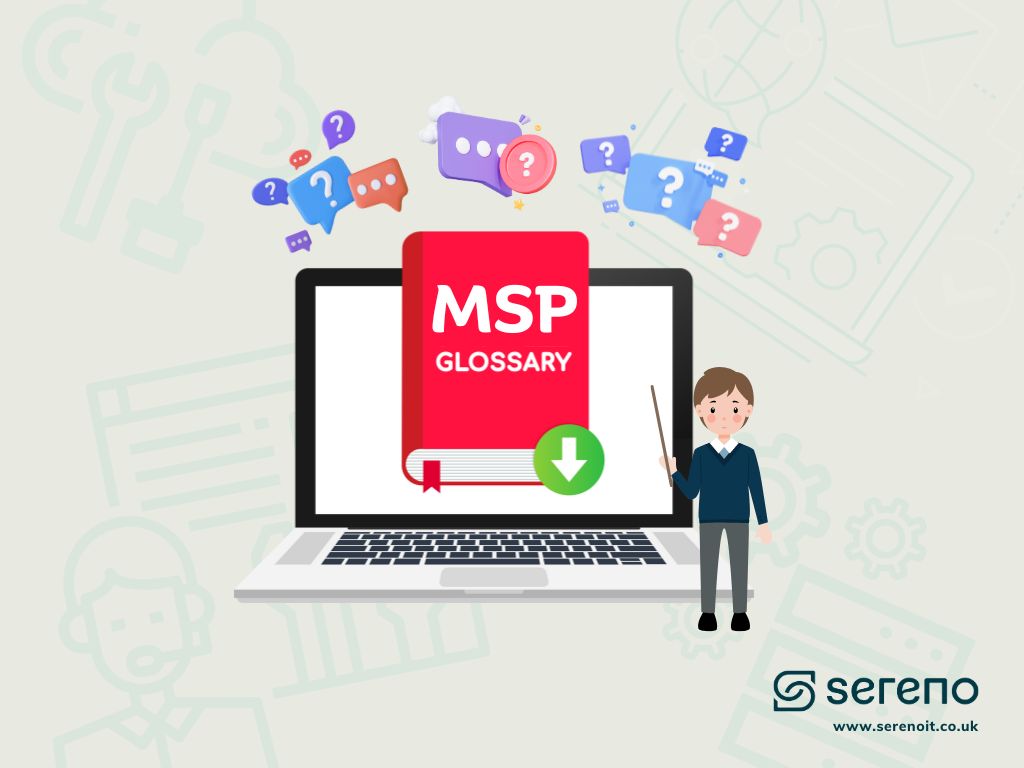 Welcome to our comprehensive glossary of technical terms and jargon in managed IT support services!  
In today's rapidly evolving digital landscape, businesses rely heavily on technology to thrive. But navigating the world of IT support can sometimes feel like speaking a different language. That's where this glossary comes in. 
Whether you're a business owner, an office manager, or simply curious about the intricacies of managed IT support services, this glossary is your key to unlocking the mysteries of technical jargon.  
We've handpicked the 50 most commonly used terms and translated them into plain, non-technical language that anyone can understand. 
From data backup and recovery to network security, from cloud computing to vulnerability assessment, we've got you covered. Each term is explained thoroughly and concisely, free from confusing technical jargon. We want to empower you with knowledge so you can confidently navigate the world of IT support and make informed decisions for your business. 
So, whether you're looking to enhance your understanding, communicate more effectively with IT professionals, or simply satisfy your curiosity, this glossary is your trusted companion.  
Let's demystify the world of managed IT support services together and take your tech knowledge to the next level! 
Active Directory: It's a technology developed by Microsoft that helps manage and organize users, computers, and other resources in a network. Think of it as a digital directory for a company or organisation, where you can find information about all the employees, computers, printers, and other devices on the network. It makes it easier for an organisation to control and secure access to resources like files, applications, and services. 
Antivirus/Antimalware: It's software designed to detect, prevent, and remove malicious software (viruses, malware, etc.) from your computer. It acts as a digital shield, scanning files and websites for potential threats and keeping your device safe.  
Bandwidth: refers to the maximum amount of data that can be transmitted over a network connection in a given time. It determines how quickly data can be transferred. It's like the width of a water pipe, where a wider pipe allows more water to flow through, enabling faster and smoother communication.
BYOD (Bring Your Own Device): It's a policy that allows employees to use their personal devices, like smartphones or laptops, for work purposes. It enables flexibility and convenience but requires security measures to protect company data. It's like allowing employees to use their own tools or equipment to complete their tasks at work.
Change management: is a structured approach to making changes to your IT systems or processes in a controlled and organised manner. It involves planning, testing, and implementing changes to reduce risks and ensure smooth transitions. It's like having a protocol in place for introducing new ingredients or modifying a recipe in a restaurant's kitchen.  
Cloud computing: is a way of using remote servers over the internet to store and access data, run applications, and perform computing tasks. Instead of relying on your local computer or server, you use the power and storage of servers located elsewhere. It's like renting storage space in a warehouse to keep your belongings safe, accessible, and scalable.  
RMM (Remote Monitoring and Management): It's a system that allows IT support providers to monitor and manage clients' computers, networks, and systems remotely. It helps them proactively identify issues, apply updates, and ensure smooth operation. 
Root Cause Analysis: It's a systematic process of investigating and identifying the underlying cause of a problem or failure. It aims to understand what went wrong and prevent similar issues in the future. It's like being a detective and uncovering the real reason behind a problem instead of just addressing its symptoms. 
Two-Factor Authentication: It's a security method that requires two different forms of verification to access an account or system. It typically combines something you know (like a password) with something you have (like a unique code sent to your phone). It adds an extra layer of security beyond just using a password. It's like needing both a key and a PIN to access a safe deposit box.  
UTM (Unified Threat Management): It's an all-in-one security solution that combines various security features into a single system. It includes functions like firewall, antivirus, intrusion detection, and content filtering. It's like having a security guard, surveillance cameras, and access control all in one package to protect your home.  
We hope this glossary has shed light on the complex world of managed IT support services. But knowledge is just the beginning. That's why at our core, we strive to make things crystal clear and easily understood at Sereno IT. 
If you are ready to take your IT infrastructure to the next level and identify issues before they become bigger problems and disrupt your business, Take action now! 
We're offering a limited-time opportunity for a free IT consultation or audit of your IT environment.  
Our team of experts will assess your systems, identify potential vulnerabilities, and provide recommendations to enhance security, streamline operations, and improve efficiency. Our friendly engineers will explain everything clearly and jargon-free, ensuring you're in the know every step of the way. 
Don't miss out on this valuable opportunity to gain insights and ensure your business stays ahead in today's technology-driven world. 
Reach out to us today to schedule your free consultation or audit. Together, let's proactively address any IT challenges and build a solid foundation for your business's success. Don't wait for problems to arise – act now and experience the benefits of a robust IT infrastructure that supports your growth and secures your future.