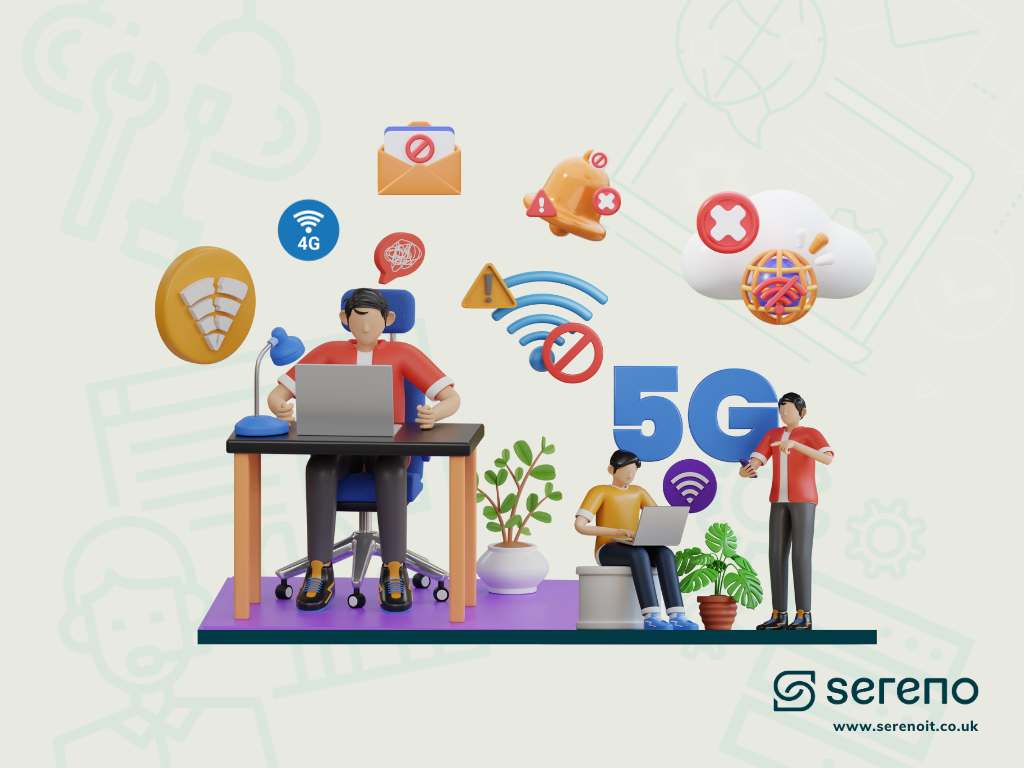 The internet: the lifeblood of today's businesses, no matter their size. It's more than just a connection; it's where your brand thrives, where you reach your valued customers, where you generate revenue, where your team collaborates, where you source vital information, and more. 
Which is why it's paramount that you have the right type of internet connectivity for your business. High-speed internet is no longer a 'nice to have'; it's a must. Your productivity, communication, customer service, and overall operations all depend on it. A seamless internet connection gives your team the ability to serve your customers better, whether they're marketing to them, troubleshooting an issue, or taking payment. 
In this blog, we're diving deep into the vast ocean of business internet connections. We'll guide you through the various options available, helping you pick the perfect one for your small business. We'll also equip you with the questions to ask when you're on the hunt for your next broadband provider. After all, when it comes to your business, you deserve nothing but the best. 
In this article, we cover:
The different types of business connectivity
Because we use the internet so frequently in our day to day lives, we often don't think about where it's coming from – it's always available, at home, in public buildings, and even on the go!  
So, we're going to take things back to basics. We'll cover all the different types of business internet connection from broadband to ethernet. As well as the pros and cons for your business, so you have all the information you need to make an educated decision. 
Broadband internet connections
1- ADSL (Asymmetric Digital Subscriber Line)
ADSL technology transmits data via copper wire telephone lines, providing continuously available, always-on business broadband connections. 
Pros:  
Cost-effective – some small businesses opt for ADSL to cut costs as it's one of the cheaper options for internet connectivity (c. £20 – £60 per month) 

 

Universally available – ADSL connections are widespread, if there's a telephone line, there's also ADSL   

 
Cons:  
Slow connection speeds – typically slower connection speeds make ADSL an unpopular choice for businesses (download speeds range from 3 Mbps to 100 Mbps) 

 
As such, ADSL is generally only suitable for businesses who only use the internet for very basic needs, e.g. web browsing. If you're willing to sacrifice high internet speeds for low, predictable pricing, ADSL could be a good option for your small business.  
2 – Fibre optic internet (FFTC & FFTP)
Fibre broadband uses fibre optic cables to transmit light signals over thin strands of glass or plastic, thus transmitting internet to and from your devices. It comes in two different types: FFTC and FFTP.  
Fibre to the Premises, or FFTP, refers to when fibre cables reach as far as your Wi-Fi router. Because it goes straight to the router, there is no interference from copper cables that could slow your connection speed down.  
On the other hand, FTTC stands for Fibre to the Cabinet. 'The cabinet' is usually a green box found on a nearby pavement. In this instance, the fibre optic cable only reaches the green box, and the rest of the connection relies on copper telephone cables (like ADSL). As a result, FFTC is typically a lot slower than FTTP.  
| | | |
| --- | --- | --- |
| | FFTP | FFTC |
| Speed | 50 - 1,000 Mbps | 35 - 76 Mbps |
| Availability | Available to 15% of buildings (less common in rural areas) | Available to 96% of buildings |
| Cost | More expensive - requires installation of a new dedicated fibre cable | Less expensive as utilises copper cables that are already installed |
| Installation | Requires a new cable - an engineer will need to drill a small hole to install | Quick and easy |
| Reliability | Faster speeds, less interference, and fewer maintenance issues | Slower speeds and copper cables are prone to damage making FFTC less reliable |
In summary, you get what you pay for. Businesses looking for fast, reliable business connectivity should opt for FFTP, but this is more expensive and may not always be available. FFTC, on the other hand, presents a cheaper option for those that cannot get FFTP, with speeds still faster than ADSL.  
However, with the looming Public Switched Telephone Network (PSTN), ADSL and FTTC will also soon be reaching the end of their lifespans. For businesses looking for high-speed, dependable internet access that keeps them at the forefront of the digital age, SoGEA broadband (Single Order Generic Ethernet Access) represents the next level in connectivity. This is a service without analogue telephone service. It offers businesses a seamless transition away from ADSL and FTTC by providing a direct full-fibre Ethernet connection to their premises. 
Wireless internet connections
Cellular internet (4G/5G) 
Those of us with smartphones, will likely use cellular internet connections on a regular basis. E.g., to FaceTime friends, navigate to a location, or perform a Google search when out and about.  
Pros:  
Enables you access to the internet wirelessly, in most places 

 

Doesn't require a router or Wi-Fi 

 

Limitless range 

 
Cons:  
Only for mobile devices 

 

Can be expensive when using overseas or exceed your data usage 

 

Can be unreliable – must be in range of a cell tower to access internet or can be slow in busy areas

 
In summary, if you offer your teamwork devices, we recommend providing them with smartphones with cellular data plans. This will enable them to work on-the-go if they need to and can act as a good back-up in case of emergency, as you can connect other devices via personal hotspots if needed. However, its unreliability and restrictions mean it should not be the only source of business connectivity.  
Dedicated internet connections
1 – T1/T3 lines
Dedicated internet access is an internet connection that is completely dedicated to your business. T1 and T3 lines are common types of dedicated digital transmission systems.  
Generally, T1 lines are more affordable and suited to basic business connectivity needs. While T3 lines are faster and more expensive, thus better suited to businesses with higher bandwidth requirements.  
Pros:  
Reliability

– dedicated T1 and T3 internet connections are bound by SLAs, including guaranteed bandwidth and download speeds

 

Speed

– unlike business broadband, you are guaranteed to receive the internet speed that you purchase as this is reserved for your business alone 

 
Security

– data is more secure because it travels point to point, rather than over a copper line used by thousands of other businesses and homes

 

Scalable

– you start with the exact capacity you need and can easily scale up or down from there

 
Cons:  
Cost

– dedicated internet connections are usually more expensive than other types of connectivity, like business broadband

 
Set-up

– installation can be complex and expensive, plus T1 and T3 lines won't be available for everyone depending on your location 

 
2 – Ethernet leased line
An ethernet leased line is another form of dedicated internet access, delivered by fibre optic cables.  
Pros:  
High bandwidths and speed

– because you don't share your bandwidth with any other businesses

 

Reliable

– fibre optic cables tend to provide a stable connection, meaning less downtime for you 

 
Upload/download speed

– specifically designed for high speeds when uploading or downloading content, making it a good option for businesses using cloud-based services

 

SLAs

– strict SLAs mean any faults will be fixed quickly 

 
Cons:  
Cost

– Ethernet leased lines are one of the more expensive connectivity options 
3 – Shared internet services
Shared internet services refers to when multiple businesses share the same internet connection, for example in a co-working space or shared office building.  
Pros:  
Cost-effective

– because you're sharing your connection with other businesses, you will usually only pay the building Manager for a proportion of it 

 

Flexible

– the building will be tied into a contract with the business connectivity provider, not you

 
Cons:  
Limited

– you have little say in choosing a provider, therefore, you may face issues with reliability, bandwidth sharing and security 

 
Choosing the best internet connection for your small business
As demonstrated, there are a vast number of different options when it comes to business internet connection. When deciding which option is right for your business, you should consider speed, latency, uptime, reliability, scalability, security and cost. Each connection type has its own set of advantages and limitations. By conducting a side-by-side comparison, you can evaluate which option fits the needs of your business.  
Later in this blog, we've included a table that does just that, so that you can directly compare each connectivity option. But first, you need to determine your requirements, specifically what you need and what your budget is. So below, we've included the top 11 questions you need to ask yourself when deciding on the right internet connectivity for your business.
What type of internet connectivity does my business need?
Here's the top 9 questions to ask yourself .
When reading through these questions, remember to think about them in the context of your business. Use them as a guide to make an informed decision on the best internet connection for your business, whilst always tailoring your thinking to your unique requirements and budgetary constraints.  
1 – What are my needs and priorities?
Identify your key requirements and then rank them from highest to lowest priority. This should include factors like speed, reliability, cost, and scalability.  
2 – How important is reliable uptime for my business operations?
Evaluate the importance of uninterrupted internet access. Determine whether downtime would significantly impact your productivity and customer satisfaction.  
 3 – What are my current and future bandwidth requirements?
Bandwidth refers to the volume of information that can be sent from one connection to another in a certain amount of time. You therefore need to consider how many users you have accessing the internet and what activities they're doing day-to-day. Then consider how this might change in the future, i.e. do you predict rapid growth in the near future? 
If you're planning on hiring more employees, expanding operations or implementing new technology that will require additional bandwidth, you'll need a solution that can easily accommodate scaling up.  
4 – What is my budget for business internet connection?
Use your list of priorities to find the right balance between the features you need and what you can afford. When assessing the cost-effectiveness of each type of business connectivity, take into account installation fees, monthly charges, and equipment costs.  
By weighing the pros and cons of each connection type against your specific needs and budgetary constraints, you can make an informed decision that supports your business objectives. 
5 – What level of reliability and performance do I require?
Consider the criticality of fast upload and download speeds, low latency, and consistent connection quality for your applications and operations. Identify the performance benchmarks that align with your business requirements. 
6 – What is the long-term cost-effectiveness of each option?
Evaluate the potential return on investment (ROI) and the impact of internet connectivity on productivity, efficiency, and customer satisfaction. Consider the overall value and benefits that each connection type brings to your business. For example, if you opt for a cheaper option and then experience lots of downtime, would the cost saving from the internet connectivity outweigh the financial impact of internet downtime? 
 7 – What are the security measures and optimisation techniques needed for my business internet connection?
Make sure you have a good understanding of the necessary steps for securing your new internet connection. As well as optimising network performance and how to troubleshoot common connectivity issues. Consider the security features provided by the connection type and the optimisation techniques you can implement. 
8 – What are the commitment terms involved?
For context, things like leased lines are usually on 3-year contracts because if you want less, you need to pay a large amount upfront for the installation (as the fibre is put into your building and sometimes runs under the road!). FTTC on the other hand is generally on 12-month terms with low upfront costs. So, make sure you do your research beforehand to ensure you know what you're signing up for.  
9 – What is my cloud usage, and how will this affect my requirements?
For context, if you only use the cloud for email or VoIP telephony, your internet usage will be relatively low. However, if you're storing and sharing files, it will be much higher. In this instance, you'll need to consider download and upload speeds too, because everytime a member of your team edits or saves a file, this change will need to be uploaded. If your internet speed is slow, you could end up with slightly different duplicate versions of the same file.  
Comparison table for each type of business internet connection
To further help inform your decision, here's a comparison table that shows you each type of business connectivity and how they compare. This covers everything from internet speed, to their suitability to different business sizes and industries.  
Connection Type

Speed

Latency

Uptime

Reliability

Scalability

Security

Cost

Suitability

Unique Features/Considerations

DSL

Medium

Medium

Medium-High

Medium

Low-Medium

Medium

Low-Medium

Small to medium-sized businesses with basic internet needs

Availability depends on proximity to the provider's central office

Fiber Optic

High

Low

Very High

Very High

High

High

High

All business sizes, especially those requiring fast speeds

Provides symmetrical upload and download speeds; ideal for data-intensive operations

Cellular Internet

Varies

Varies

Varies

Varies

Varies

Varies

Varies

Businesses requiring on-the-go connectivity or backup options

Reliant on cellular network coverage and subject to data caps and network congestion

Shared Internet

Varies

Varies

Varies

Varies

Varies

Varies

Varies

Small businesses or individuals with limited bandwidth needs

Shared bandwidth may result in reduced speeds during peak hours

Offers shared internet access through public hotspots or community networks

T1/T3 Lines

High

Low

Very High

Very High

High

High

High

Medium to large businesses requiring dedicated high-speed connections

Provides dedicated and reliable connections with guaranteed bandwidth

Ethernet Leased Line

Very High

Low

Very High

Very High

High

High

High

Large businesses or organizations requiring high-speed dedicated connections

Offers symmetrical speeds and high reliability; suitable for demanding applications and large-scale operations
What's next?
If you'd like further advice on the different types of business internet connection and which option is best for your business, please contact us.